A PREMIUM RANGE TO DIFFERENTIATE

THÉMAÉ has ​​designed two special offers for the hotelier: a range of high-end amenities and a collection of miniatures "Turn down" for VIP gifts.
Offer a real sensory experience to your customers with quality products:
The Douceur de Thé® range of hospitality products will surprise your guests in the bathroom of your establishment.

The "Turn down" miniatures collection will allow you to personalize the reception in your room for your loyal and / or VIP clients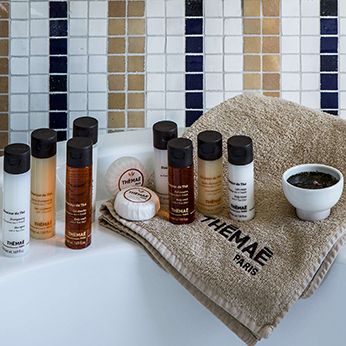 HOSPITALITY PRODUCTS

Adopting the Douceur de Thé® range of hospitality products for a hotelier means choosing:

to offer original products of quality to its guests, and thus improve its brand image.

to use the direct declination of the range of cosmeceuticals / cosmeceutical-products-range face& body, present at the Spa and or at the boutique.

The products are formulated with more than 95% of natural ingredients, and even more than 98% for the soap.
The Douceur de Thé® range offers the following references:
Hand & Body Cleansing Gel / Shampoo / Conditioner / Hand & Body Milk / Soap.

The 5 references benefit from premium formulas made in Italy, according to a demanding specification, enriched with the complex of 4 antioxidant Teas, paraben free, with subtle scents and sensory textures.

Liquid products are available in 35 ml, 50 ml, 75 ml, 300 ml and 5 liters. The soap is available in 30 g and 50 g.
You have the freedom to select products and packaging based on the experience you want to offer your customers during their stay at your facility.
MINIATURES ``TURN DOWN``

Personalize the reception in room with quality products.

Ideal for linking the room, the Spa or the boutique, these "Turn Down" miniatures of our cosmeceutical products ensure a good return on investment for the hotelier.

They also allow you to pay special attention to your loyal and / or VIP customers.