THE INTELLIGENCE OF TEA AT THE SERVICE OF BEAUTY
Les produits cosmétiques THÉMAÉ sont naturels et bio et possèdent une dominante d'actifs d'origine végétale, à efficacité prouvée et pour certains brevetés. Ils subliment le Thé sous toutes ses formes et offre un véritable concentré d'efficacité antioxydante. Le Complexe des 4 Thés® (C.4.T), a été suractivé et labelisé BIO. C'est une biotechnologie brevetée à la base de toutes nos formules, qui agit comme un véritable bouclier antioxydant et antiradicalaire.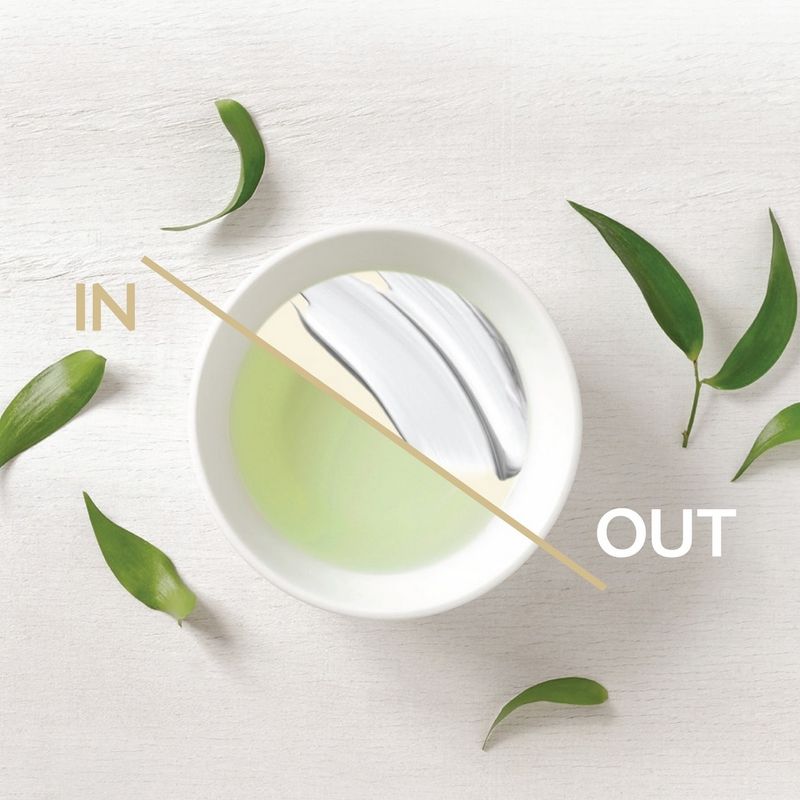 UNE STRATÉGIE ANTI-OXYDANTE CONTRE LE VIEILLISSEMENT CUTANÉ
The Tea plant, in response to multiple biological aggressors, has developed complex defense strategies, by surrounding molecules endowed with specific properties. It contains more than 500 active compounds, including Polyphenols.

According to many international scientific studies, EGCC Polyphenols, « the intelligent part of Tea », are the most powerful antioxidants in the world. The THÉMAÉ laboratory has developed a totally unique technology, the Complexe des 4 Thés® (4 Tea Complex), which concentrates the antioxidant power of Polyphenols, extracted from 4 premium Teas: White Tea + Green Tea + Black Tea + Blue Tea.
LES COSMÉCEUTIQUES
Les cosmétiques visage et corps sont un véritable concentré d'efficacité, pour la beauté – santé de tous les types de peaux. Enrichis avec le Complexe des 4 Thés® et des actifs ciblés naturels ou issus de la biotechnologie, ils sont nettoyants, nourrissants, hydratants, matifiants, repulpants ou encore lissants… Vous trouverez tous les produits nécessaires à votre routine beauté-santé au quotidien : démaquillant, nettoyant, sérum, contour des yeux, exfoliant, masque, crème… Les textures fondantes et onctueuses offrent également un véritable moment de plaisir.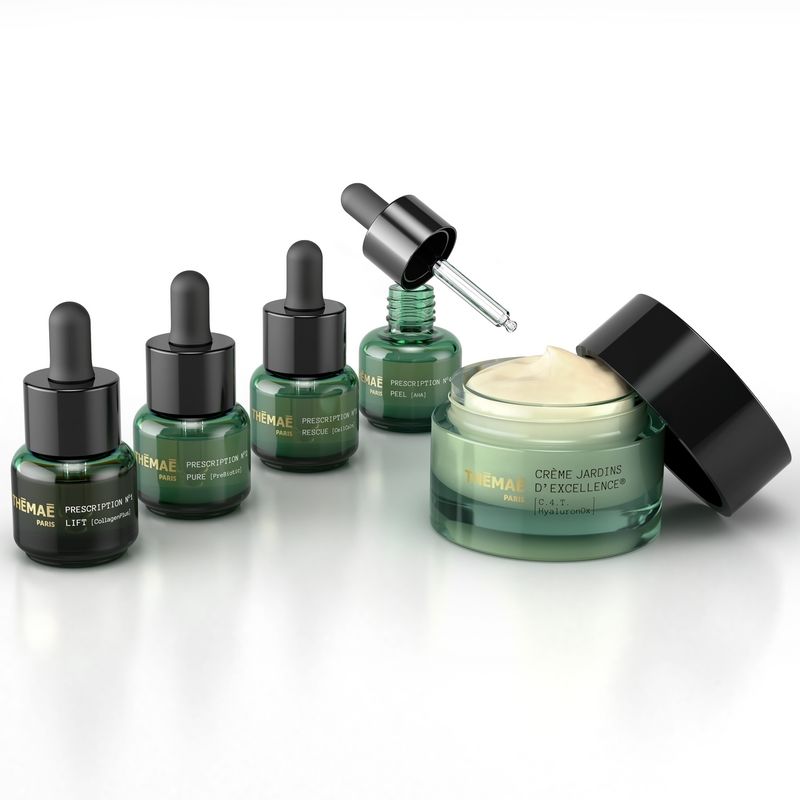 LES BIOCOSMÉCEUTIQUES

Thémaé innove en basant ses recherches sur le biomimétisme de la peau et développe des Cosmétiques Bio qui répondent aux besoins spécifiques de la flore et de la physiologie cutanée. Le soin poly-actif,« Crème Jardins d'Excellence », est associé à des actifs biomimétiques ultraconcentrés, les « Prescriptions » pour une préparation magistrale de soin sur mesure.
Conçue pour correspondre aux exigences actuelles et futures des consommateurs, cette ligne de soins repose sur 4 piliers fondamentaux :
EFFICIENCE NATURELLE / CLEAN BEAUTY / SUR MESURE / LUXE À LA FRANÇAISE
CHARTE CLEAN BEAUTY

THÉMAÉ s'engage pour le respect de la peau et de l'environnement :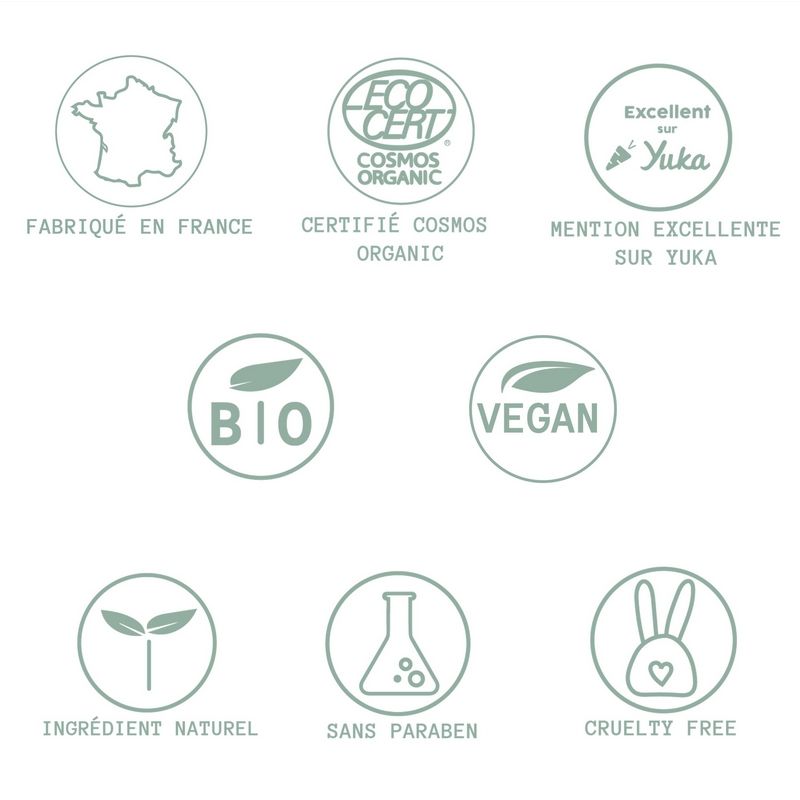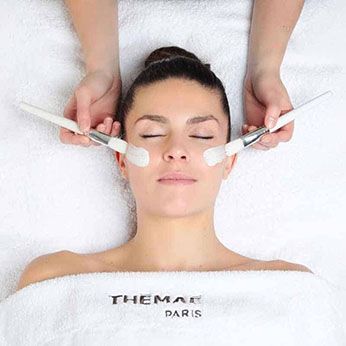 GAMME SPA PROFESSIONNELLE
THÉMAÉ offers a range of exclusive treatments and natural cosmeceuticals for wellness professionals (urban Spas, hotel Spas, beauty institutes), for them to feature the THÉMAÉ experience in cabin. Associated with THÉMAÉ facial and body treatment protocols, they use the same advanced formulas as the take-home range. Specific references exclusive to professionals complete the offer: peeling with fruit enzymes, pure active collagen mask, second skin mask with spirulina, body wraps…

GAMME DE PRODUITS D'ACCUEIL HÔTELIERS NATURELS
THÉMAÉ also enjoys presence in the hotel room, with its range of amenities. When hotel managers choose the THÉMAÉ brand, they adopt a range that is both premium and naturally original: offering their customers cosmeceutical quality products, as well as a real sensory experience.
Les formules sont composées à plus de 95 % d'ingrédients naturels.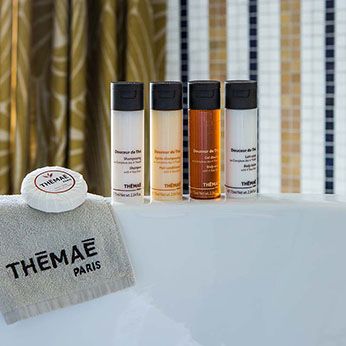 « Découvrir THÉMAÉ, c'est ouvrir la porte à la richesse et aux incroyables vertus de cette plante millénaire… Passionnée moi-même par le Thé depuis de nombreuses années, imaginer des produits cosméceutiques à base du puissant Complexe des 4 Thés ® est une chance.
J'ai à cœur d'offrir des textures ultra-sensorielles, associées à des notes parfumées subtiles, délicates et addictives. THÉMAÉ est une expérience à vivre comme une découverte, un plaisir renouvelé et un bien-être absolu… »
Responsable Marketing & Communication