SUBLIMATE TEA IN ALL ITS FORMS
THÉMAÉ is an independent French brand, the pioneer and expert of beauty by Tea. Born in 2007, the brand is inspired by the culture and art of Tea. The brand is based on the virtues of this millennial plant, especially known for its scientifically proven antioxidant properties.

THÉMAÉ offers a complete universe designed around the benefits of Tea and the science of Tea polyphenols. Based on its expertise, THÉMAÉ brings innovation to the world by offering a genuine antioxidant defense strategy: "In & Out Tea Therapy".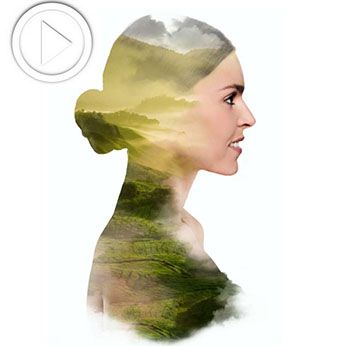 HEALTHY - BEAU'TEA
THÉMAÉ's passion for healthy – beau'tea comes to life with a range of natural Cosmeceuticals for the face & body, combining efficacy, well-being and sensuality. Developed and manufactured in France by an expert laboratory, its formulas are rich with natural ingredients of plant origin, proven to be effective and, in somes cases, patented.
Acting in synergy with our range of natural Cosmeceuticals, a collection of premium Teas has been conceived. It provides all those who are anxious to preserve the beauty and youth of their skin with an "effective dose" of Polyphenols.
Working on the principle that beauty is naturally revealed when it is associated with pleasure and well-being, THÉMAÉ has ​​developed exclusive face & body Spa treatments: care and massage techniques inspired by the ancient medicines of the world.
EFFICACY

The THÉMAÉ laboratory has developed a totally unique technology, the Complexe des 4 Thés® (4 Tea Complex), which concentrates in a unique way the strength of Tea polyphenols. On top, our scientific formulas include carefully selected, targeted active ingredients, some of which are patented with proven efficacy.
Our skin is regularly exposed to damage due to free radicals coming from internal and external factors. To combat the aging process caused by free radicals, we must act both from the outside and the inside.The "IN & OUT TEA THERAPY" has been specifically conceived to limit oxidative stress, responsible for premature cutaneous aging:
from the outside, by applying natural cosmeceuticals enriched with Complexe des 4 Thés® (4 Tea Complex)
from the inside, tasting the effective dose of Polyphenols naturally present in its Teas
By providing the skin and the body a cocktail of antioxidants that supplement those created naturally by the body, optimal results can be achieved.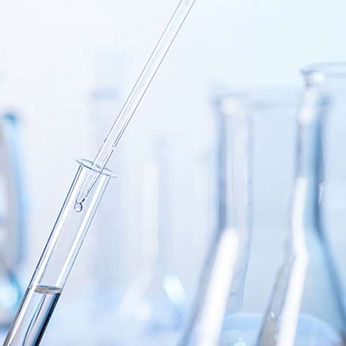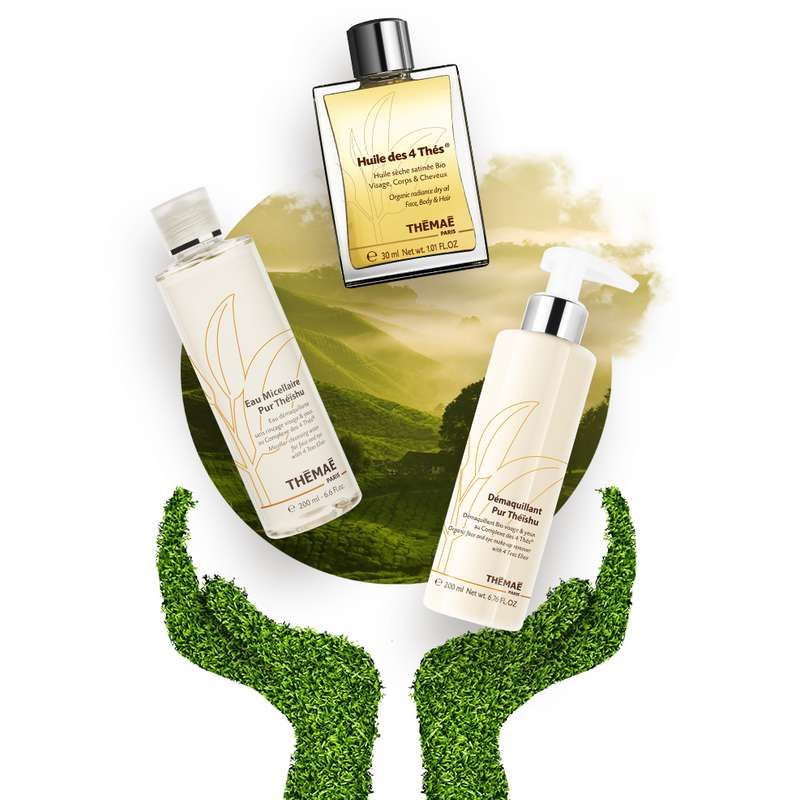 NATURALI'TEA
THÉMAÉ develops its natural cosmeceuticals by relying on the power of natural biotechnology. Its formulas combine the virtues of Tea with other natural ingredients of plant origin such as aloe vera, lotus flower, rice powder, vegetable and essential oils … THÉMAÉ is in harmony with nature and respects the environment and the skin: all its formula are paraben-free and cruelty-free.

The THÉMAÉ Tea collection offers aromatic compositions associating true pieces of fruits (lemon, mango, pineapple …), flower petals (chamomile, blueberry, orange blossom …) and natural flavors to sublimate the taste of Tea. Our compositions are packaged without staple or glue in 100% natural cotton muslin sachets to preserve the natural taste of tea.
SENSORIALI'TEA
THÉMAÉ means in Japanese the Tea preparation ceremony. It symbolizes a world of sensations, beauty and pleasure, to be enjoyed in calm tranquillity.
A range of natural face & body cosmeceuticals, sublimated by ultra-sensory textures and a palette of subtle fragrances
A collection of Teas stimulating the taste buds, awakening the senses and bringing a feeling of "calm awakening" to the mind.
A menu of face & body Spa treatments ceremonies, truly unique sensory journeys, combining well-being and sensoriality.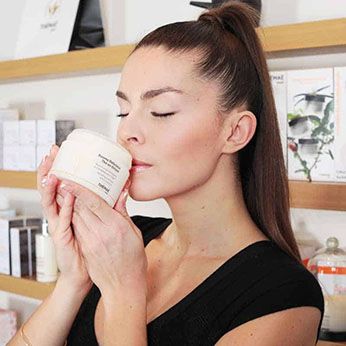 « Beauty is the reflection of an alliance between inner life and the benefits of cosmeceuticals. True beauty is manifested if health and well-being drive us.
I cultivate this idea that touch has comforting and benevolent powers essential to well-being. The Spa offers everyone an experience of well-being and an aspiration for a healthier life.
This philosophy is the cornerstone of the development of our cosmeceutical Tea products »
Guillaume Lefèvre – CEO Founder